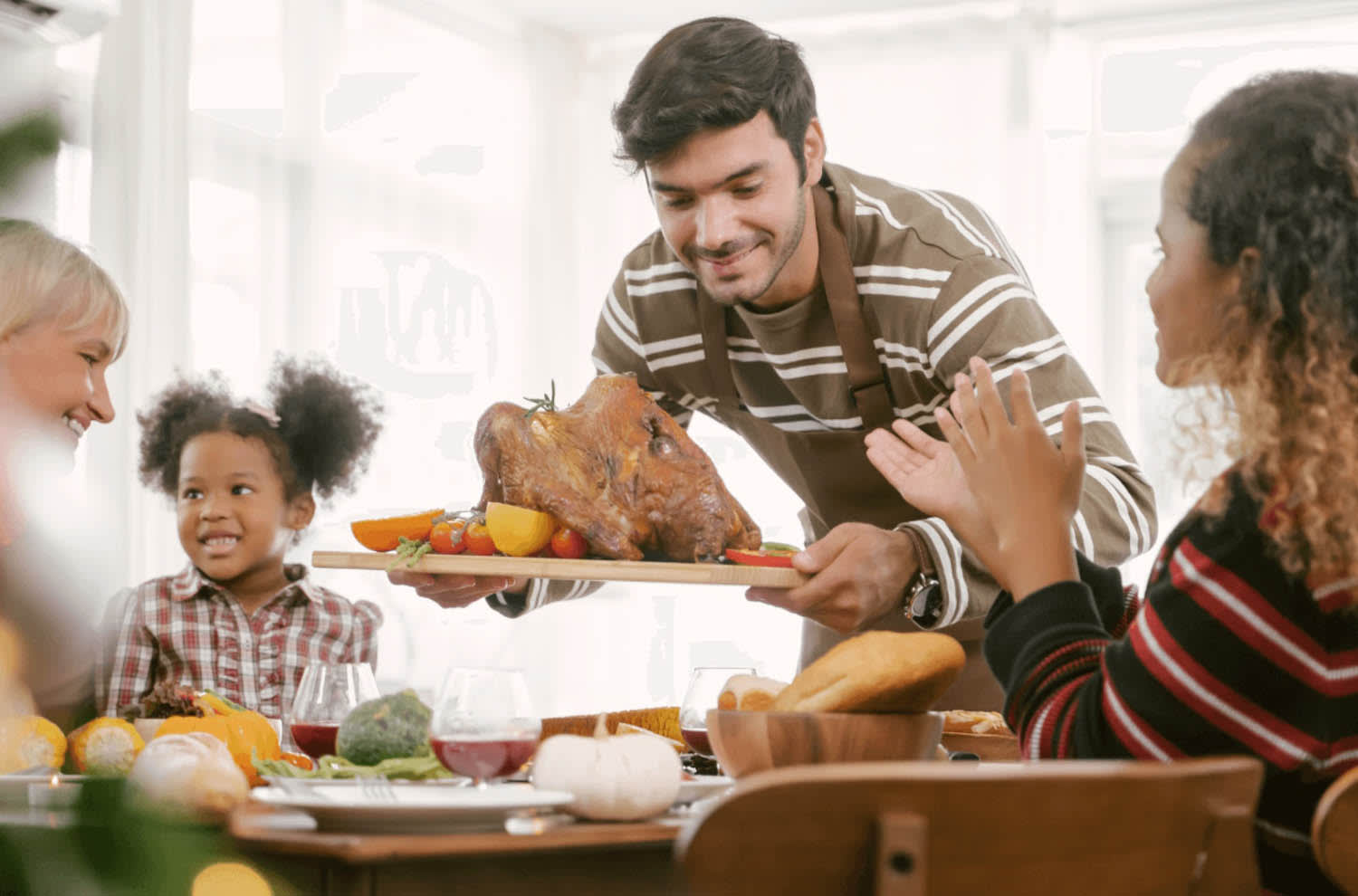 Whether you volunteered for the duty or had the honor thrust upon you, it can be a real challenge to host your first Thanksgiving.
It doesn't matter if your guests are coming from out of town or just down the street, everyone is expecting good food and a good time, and they're all expecting you to provide it. If you aren't already feeling the pressure, you soon will be!
Luckily, we've got a plan that can make things a lot easier. Here's your checklist:
1. Make the Guest List and Set Some Expectations

You cannot go into a project this big without a plan, and your plan starts with a few basic questions that only you can answer:
Who are you inviting? A Thanksgiving where the guests are all young adults who live nearby may look very different than a kid-friendly Thanksgiving with your extended family. You need to insist on RSVPs for your invitations so that you know how much space you need and how much food to buy.

Are there any dietary restrictions among your guests? You want to make sure that you know about any food allergies, gluten intolerance, or other issues in advance so that you can plan your menu accordingly.

Do you want your guests to bring something? Don't be afraid to take help where it's offered and don't be afraid to hand out assignments. A good guest will happily bring a pie, some rolls, a side dish, or a bottle of their favorite vintage if you ask. (In fact, many holiday guests may feel awkward showing up empty-handed, so the assignments may take pressure off them and you alike.)

Will you be able to offer overnight accommodations? If any of your guests think they may need to spend the night, you need to know in advance – and they need to know if you can't make room.

What time do you want your guests to arrive (and leave)? Make sure to include this on your invitations. You don't want guests showing up whenever they feel like it (and hovering over you in the kitchen), and you want to put a cap on the night so you can clean up and get some rest.
2. Figure Out the Menu and Your Shopping List

Naturally, as soon as you get your guest list nailed down, you need to start thinking about the menu. This can be tricky even for experienced hosts, but here are a few basic tips:
Whether you do a traditional turkey, go for a ham or make a roast, the main dish is always the start and the most complicated part of the meal. With that in mind, you want to pick several companion dishes, especially casseroles, that can be made ahead of time. That will make everything much easier on Thanksgiving Day.

Set up a bar, if you want, where guests can make their own mixed drinks or just set out the bottles of wine and the glasses and let your guests help themselves. (Just don't try to handle the bartending job on top of cooking.)

Do your shopping early. Most food items (aside from the bread, pies, and fresh vegetables) can be purchased up to a week before and your turkey may demand it. If it's frozen, remember that you need one day's thawing time for every 4-5 pounds of turkey, so plan accordingly.

You should also decide where you can make a few shortcuts. There's no reason to drive yourself crazy trying to bake the perfect apple crumble pie when you can buy one from the bakery and box stuffing tastes just as good as homemade to most people.
3. Do a Deep Clean All Over the House
You want your home to look warm and inviting when your guests arrive, so that means cleaning every room that may be in use from top to bottom.
For the most part, you can do the majority of the heavy-duty cleaning in the weeks leading up to the holiday, especially if you need to dust the guest bedroom and wash the bedding. You can then quickly wipe down the bathrooms and the kitchen the day before your feast in just a few minutes.
If the prospect of cleaning the whole house on top of hosting seems overwhelming, don't hesitate to hire help that's what cleaning services were designed for!
4. Look to Nature for Simple (and Inexpensive) Decor

You don't have to break the bank on Thanksgiving decorations to create a beautiful atmosphere for your feast because Mother Nature has so much to offer right now. For just a few dollars, you can create gorgeous displays on your table and mantle with things like:
Apples and oranges piled in a wicker basket

Pumpkins and gourds in all the fall colors

Purple cabbage and fringed kale in pots

Colored corn in all those lovely jewel tones

Dishes of nuts with glass candles
These kinds of displays (unlike paper turkeys) look elegant in any situation, and they're eco-friendly to boot! When you set the table, it's nice to think that you won't be adding much to the landfill or another box to the attic when the day is done.
5. Finally, Kick Back and Have Some Fun

Ultimately, remember this: Thanksgiving is about family and friendship.
As the host (or hostess), you deserve to sit back and enjoy your company, so don't let the details of the day get you frazzled. Your loved ones may laugh if you forget to remove the gizzard bag from the turkey before you cook it, but they'll remember you fondly for laughing along with them – and they'll remember the dinner as one that was filled with companionship and joy!